In Siegen, Germany, cycling advocates, local governments, and private businesses all saw the potential of e-cargo bikes to help the city move forward sustainably. The only trick was getting residents on board and in the habit of doing chores by bike.
Experienced e-cargo bike users know that once you try one, it's hard to deny how fun and useful they are. So, with the local branch of ADFC (German Cyclist's Association) leading the charge, the groups came together to create opportunities for Siegen residents to borrow e-cargo bikes for free.
The Tern GSD was the first bike chosen for the Dein Lastenrad für Siegen (Your Cargo Bike for Siegen) project. Now, Siegen residents are getting used to seeing a fully-loaded GSD on their streets, and e-cargo bikes are becoming an attractive mobility option for many in the city.
City Aims to Cut Down on Cars while Improving Mobility
Siegen is a university and industrial city located in the state of North Rhine-Westphalia. Home to 100,000 residents and a bustling machine-building industry, Siegen's streets see a high volume of heavy traffic. That traffic amplifies urban mobility challenges caused by geography—the city is dispersed throughout several valleys—and a lack of public transport options.
While Siegen lies on a long-distance European cycle path, cycling within the city has seen relatively slow growth due to a combination of car-centric infrastructure and moderately hilly topography. As a result, cars are the dominant mode of transport for heavy trips—something local governments hope will change as Germany works to meet climate targets.
Cyclist's Association, Governments & Private Enterprise Join Hands
After the zero-waste bulk grocery store Unverpackt Siegen opened for business, members of the local branch of the ADFC saw an opportunity. E-cargo bikes offered an efficient and eco-friendly way for shoppers to get home with their bulk goods (plus the added weight of their reusable containers). Letting shoppers borrow an e-cargo bike for free when they needed it most could help the bikes gain a foothold as sustainable mobility solutions for Siegen.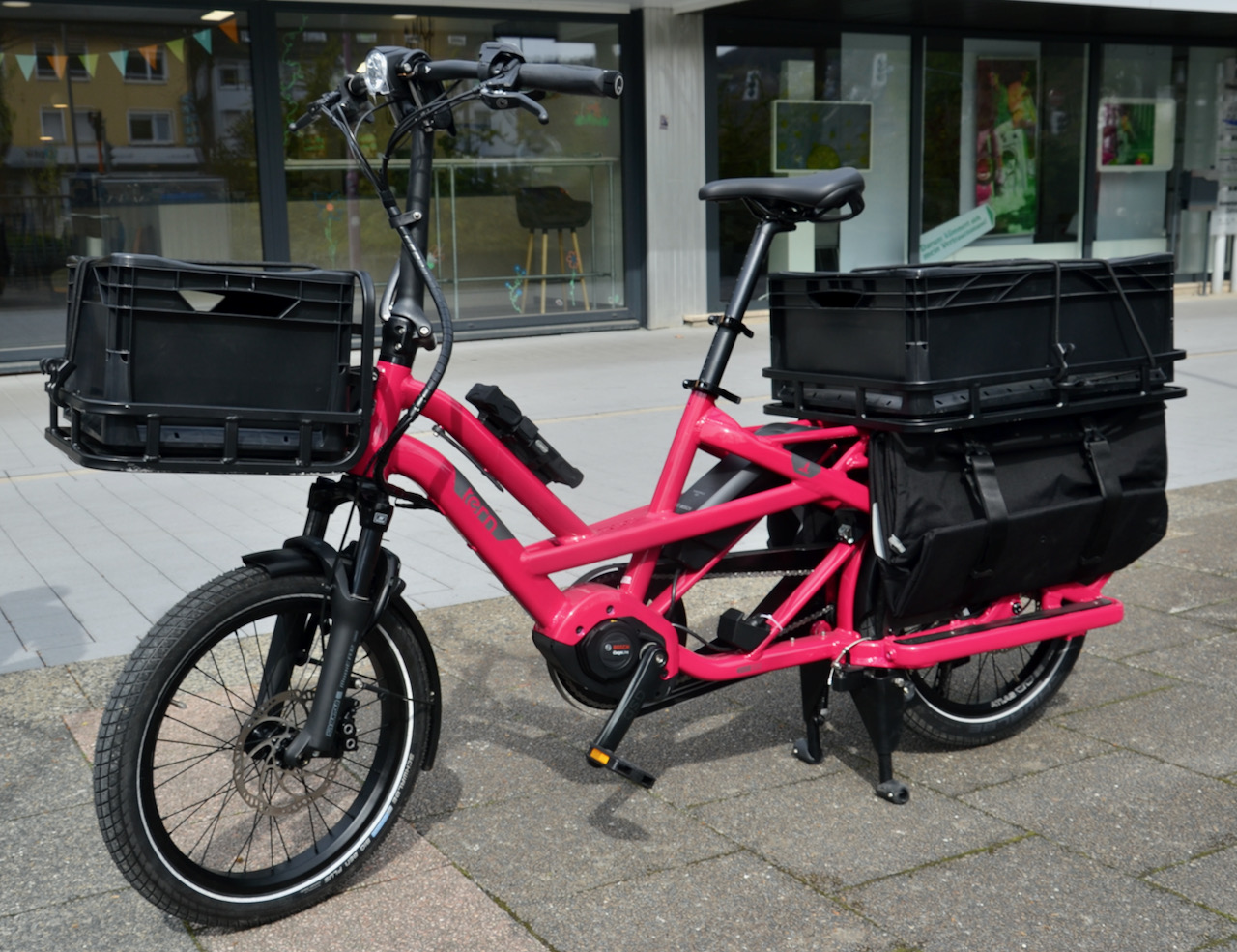 In the first half of 2021, the Siegen-Wittgenstein ADFC launched the initiative Dein Lastenrad für Siegen (Your Cargo Bike for Siegen) under the auspices of a nationwide effort to provide free cargo bike-sharing in German cities. With the help of a 40% subsidy from the state of North Rhine-Westphalia, the ADFC branch bought a Tern GSD and outfitted it with all the racks, trays, bags, and straps riders would need to complete heavy errands by bike.
The city of Siegen chipped in by buying lockable boxes to secure the GSD and its accessories. The boxes were placed near the storefront of project partner Unverpackt Siegen to encourage bulk shoppers to give it a try. Unverpackt Siegen helps out by coordinating bike loans during store hours.
Reaching the Most Riders with the GSD
ADFC, the city and state governments, and  Unverpackt Siegen all shared a common goal: to help Siegen residents discover the benefits of e-cargo bikes by trying them out and using them for heavy errands. This goal helped shape the decision about which cargo e-bike to purchase for the initiative.
The groups settled on a GSD partly because of how easy it is to ride and how similar it feels to a conventional bike. Unlike box bikes (also known as Long John cargo bikes), the GSD requires very little getting used to. Any Siegen resident able to ride a standard bike can participate in the trial ride program without feeling intimidated or receiving special training. And since the GSD adjusts in seconds to fit riders of varying heights, it fits almost any adult in Siegen very well.
In addition to being friendly towards new riders, the GSD's compact size also helps with security, which is key to any successful trial ride program. Unlike bulkier cargo bikes, the GSD fits easily inside the lockable boxes purchased by the city to keep their investment safe.
Happy Trial Riders and a Fully Booked Bike
The Cargo Bike for Siegen project officially launched on May 15, 2021. The website for the initiative encourages residents to book the GSD for free rides of up to two days and use it to haul potting soil, building materials, drinks for friends, and more.